How Long Is My Recovery After Breast Implant Removal?
Posted February 01, 2021 in Breast Implant Removal, Breast Implant Removal Recovery
3 Minute Read: 
Many women undergo breast augmentation surgery to enhance and redefine the shape and size of their breasts. However, there are situations where the breast implants may make some women feel sick, and some women second guess their decision to have breast augmentation with implants. 
Because of this, many women today are having their implants removed.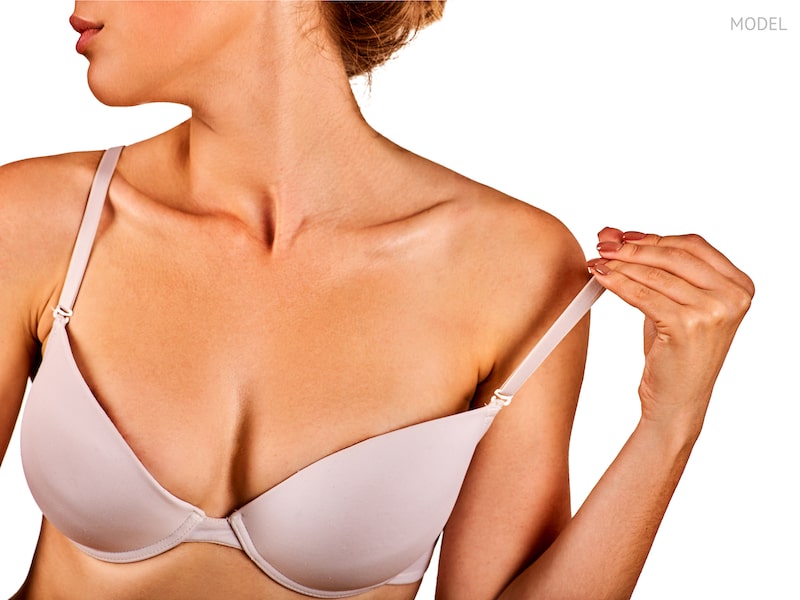 Why Would I Choose Breast Implant Removal?
Breast implant removal involves taking out
the breast implants and sometimes
revising their shape or size
after explantation. 
A common reason for considering breast implant removal is a capsular contracture, where scar tissue hardens around the implant, causing pain and discomfort or even changing the implant's appearance. 
Other possible reasons for removal include:
Breast implant illness

Implant rupture (leaking of the breast implant)

Poor implant positioning (shifting of one or both implants)

Breast deformities due to scar tissue or weakened breast tissue

Dissatisfaction with breast appearance
How Long Should It Take to Fully Recover After Breast Implant Removal?
The recovery process from breast implant removal surgery is very similar—albeit smoother—to your initial breast augmentation recovery. 
The recovery timeline will differ from person to person depending on the technique used for removal, how much capsule work needed to be done, if a lift is performed and/or fat grafting added.
Breast implant removal as a stand-alone procedure takes about one to two weeks to ease back into light activities like household chores and work, depending on the strenuousness of your job. 
Any strenuous activity and heavy lifting should be avoided during this time.
In many cases, patients experience minimal discomfort, bruising, and tenderness. This should subside gradually over a few weeks or months. Pain medication is administered to manage discomfort and help keep you comfortable. 
After six weeks, you should be able to resume normal activities and exercise. Full recovery is expected to take up to six months as residual swelling and scarring continue to fade.
What Can Lengthen My Breast Implant Removal Recovery?
Often, patients choose to
combine a breast lift
with their explant procedure to tighten excess breast skin and compact breast tissue for a more youthful breast shape and position. Women may also choose to add volume back to their breasts with
fat transfer (natural breast augmentation)
. Combining procedures may impact your recovery period slightly.
Patients who undergo an en bloc procedure combined with breast lift should expect additional scarring and a somewhat longer recovery than a stand-alone implant removal procedure.
Throughout your recovery process, it is extremely important to discuss your concerns with Dr. Strawn. This will ensure a successful recovery and optimal results.
Interested in Learning More?
If you are experiencing physical discomfort or are not satisfied with your augmented breast appearance and are considering a breast implant removal, please reach out to Dr. Strawn and the knowledgeable team at Scultura Plastic Surgery. 
Dr. Strawn is a breast implant removal specialist and will help you restore the look you want. Contact us today at
949-612-7231
or
fill our online form to schedule a consultation
.