Meet Scultura's Newport Beach Plastic Surgery Team!
Employing a cohesive group of professionals who trust and respect each other is vital to providing top-quality care for breast surgery patients in Newport Beach. Dr. Jon Bradley Strawn is proud to have such a team here at Scultura Plastic Surgery.
---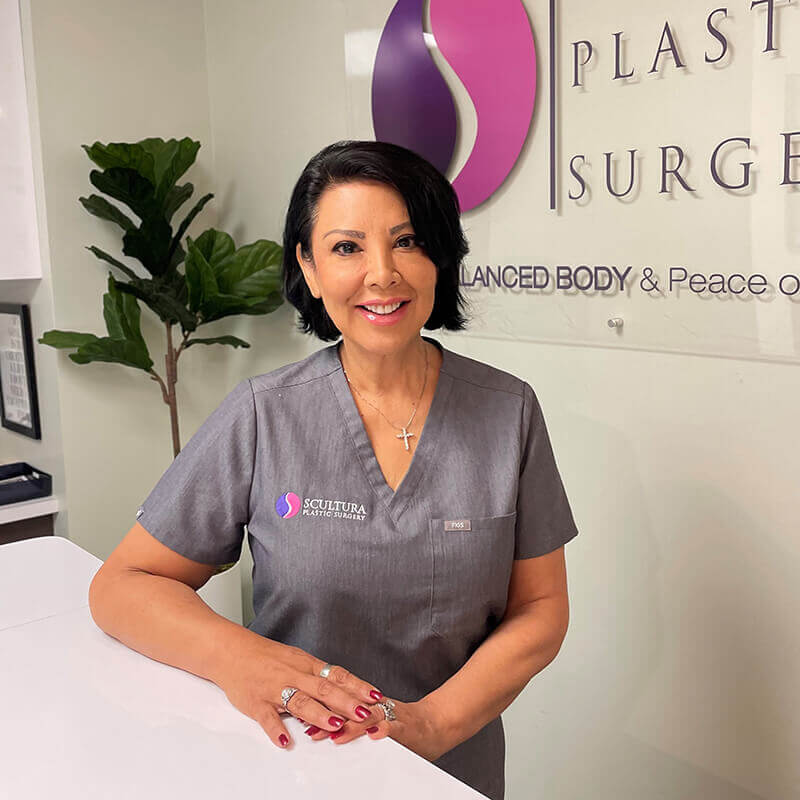 Meet Our Practice Administrator
Rose Guadan
is our Practice Administrator. Rose oversees all admin functions, day-to-day operations, and human resource tasks at Scultura Plastic Surgery. This includes one-on-one consultations, an explanation of fees, and optional financing. Since joining the team, Rose has been instrumental in delivering process improvements, such as incorporating modern technology to streamlining required patient documentation. Rose's vast experience and accomplishments in office-leadership compliments Scultura's patient-centric approach and enhances our overall client experience.
Our Practice Revolves Around Our Patients
Rose is proud of her work with the business side of the practice, but her heart lies with the patients. She advocates for patients at each step of their unique journey, always ensuring they have all the necessary information and are fully prepared for their
procedures
. Patients can expect to hear from her even after their procedure has been performed to ensure they are healing properly and remain fully informed.
Your Experience
When coming in for your consultation, Rose will sit down with you to collect the essential medical information needed by Dr. Strawn to assess your candidacy for surgery. At Scultura, the team always strives to treat patients as individuals with unique circumstances and goals, so you can expect Rose to ask about your surgical wishes, challenges, desired timelines, and limitations in an effort to curate your unique experience. This is all part of making sure that Dr. Strawn provides the appropriate, customized treatment plan that will result in the ideal outcome for you. Rose also coordinates all the administrative needs relating to your procedure.
---
Meet Our Administrative Medical Assistant
Jennifer Delozier
works as our Administrative Medical Assistant, handling patient paperwork; however, she provides much more than that. Besides offering a safe, comfortable, and professional environment, Jennifer's devotion to our patients is evident by the compassionate and attentive aftercare she delivers. Her favorite part of the job is seeing the
dramatic results
our patients have achieved and the smiles on their faces. While Jennifer has over 20 years of experience as a certified medical assistant with an excellent bedside manner, her value to our practice doesn't stop there. She is a board-licensed esthetician with a background in dermatology and understands that everyone's skin tells a story and requires an individualized treatment plan. You can count on Jennifer to bring the same level of care she gives to our surgical patients regarding the new services we offer, including advanced skincare with HydraFacial® and chemical peels.
---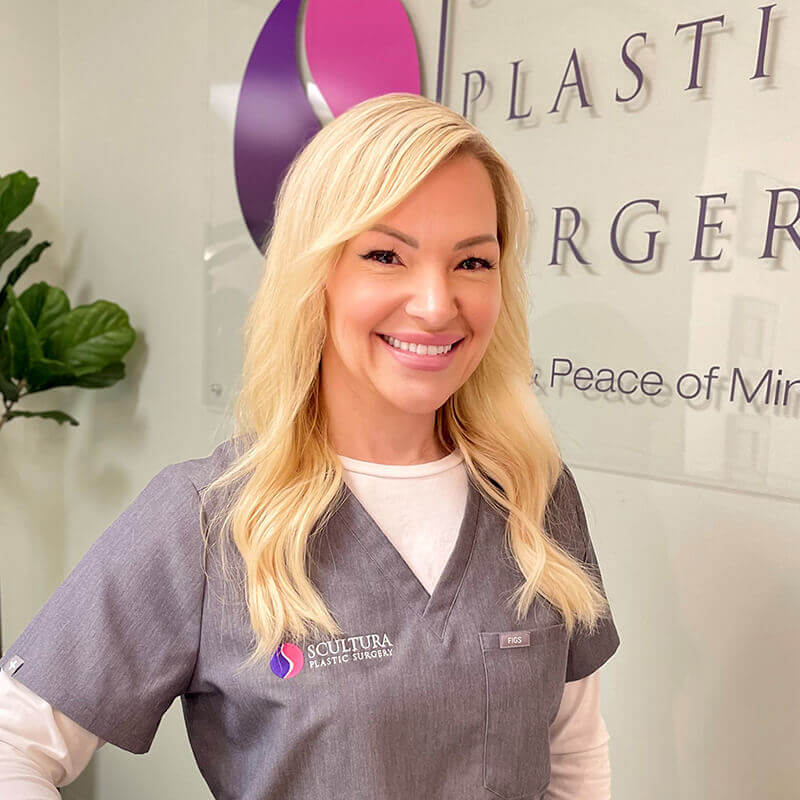 Meet Our Patient Coordinator
Rachael Land is our Patient Coordinator and the friendly face of Scultura Plastic Surgery. She graduated from Arizona State University in 2009, where she studied communications and mass media. While Rachael made a successful career in marketing, she pivoted after her father had a surfing accident and found herself admiring the staff who cared for him in rehab. This experience led her to the medical field. Rachael loves greeting our patients, getting to know them, and providing one-on-one attention to ensure their entire experience is as seamless and stress-free as possible. Her favorite part of the job is witnessing our patients' entire journey, from the initial consultation to the final outcome. Having been through breast surgery herself, Rachael's empathy for our patients is priceless.
---
Our Philosophy
At Scultura Plastic Surgery, our team believes in maintaining the following four aspects of awareness:
Positivity
Accountability
Presence
Gratitude
Now that everyone is settled in, the practice is operating like a well-oiled machine, and it's our patients that benefit the most. Our close-knit staff works together to provide a safe place for our clientele to receive the best care possible. Check us out on Instagram and Facebook to get to know us better.
I can't thank you enough for the care and attention you have me over the last month. The work you do is so important. And, you excel at your work in every way possible. I am so grateful for the time you and Mrs. Hemkin took to talk with me to help me better understand my options. It was great comfort! I am doing well today because of the constant care you gave me. I hope all the good you do comes back to you." – T.T.
READ MORE...