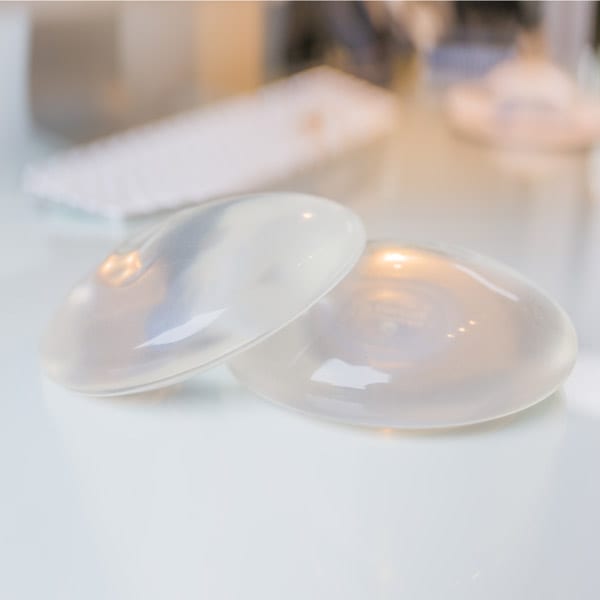 Implant Types
The type of implant chosen for your breast augmentation, breast revision, or breast reconstruction plays a key role in creating your final breast appearance. Dr. Strawn works closely with his patients to determine which implant is most suitable for them depending on their current breast size, aesthetic goals, and ideal breast shape. While your implant type is only one factor in your ultimate breast appearance, it is an important one. This guide is designed to help you become familiar with your breast augmentation options, and during your personal consultation, Dr. Strawn will advise which implant will best complement your body.
Material
Material describes what each implant is constructed from. Implant material can affect how natural your breasts look and feel. While not the most important factor in choosing a breast implant, the material can affect the cost of your procedure.
Saline
Saline implants consist of a silicone shell filled with a saltwater solution. More accurate sizing can be achieved with saline implants because they are filled after being placed in the breast pocket. Saline implants provide you with a wider variety of incision options during breast augmentation. Additionally, implant ruptures are more easily detected in saline implants, allowing the problem to be corrected sooner. However, depending on the natural thickness of your breast tissue, you may develop visible wrinkles along the surface of your breasts. In some women, saline implants can result in more noticeably augmented breasts. Depending on your preferences, fat grafting may also be used to create a more natural breast appearance with saline implants.
Silicone
The first silicone implants became FDA approved for women ages 22 and older in 2006. Since then, there have been great strides in silicone implant technology using cohesive silicone gel to simulate the feel of natural breast tissue. Modern silicone implants are more durable than their original counterparts and typically provide the most realistic breast look and feel with little implant visibility. However, in women with thinner breast tissue, the edges of silicone implants may become visible depending on placement. Implant leaks, while not harmful to your health, are not easily detected and may require an MRI to diagnose. While silicone implants come in a wide variety of sizes and profiles, they cannot be custom-filled like saline implants. In most cases, silicone implants tend to be the more costly choice but may provide you with the breast look you desire.
Shape
The shape of your implants can affect how they sit in the breast pocket and can impact the overall curvature of the breasts.
Round
Round implants are the more traditional implant shape and maintain the same size and shape all the way around the implant. Round implants come in a variety of materials, sizes, and profiles. Most women seeking breast augmentation choose round implants unless anatomical implants better suit their specific needs. Round implants cause less breast distortion if they shift position in the breast pocket.
Anatomical
Anatomical, or "teardrop shaped," implants have fullness in the upper pole of the implant and taper downwards, similar to your breast tissue. In the right patient, anatomical implants can provide a more natural breast appearance. For this reason, they are commonly used in breast reconstruction surgery to avoid that "augmented" look many women fear will occur following reconstruction. While uncommon, anatomical implants can cause breast distortion if they rotate in the breast pocket.
Surface
The surface of your implant can affect its visibility under your breast tissue and may prevent certain postoperative complications.
Smooth
Smooth implants have an uninterrupted surface, which makes texture irregularities less likely. Smooth implants are used in most primary augmentations unless Dr. Strawn believes you would benefit more from a textured implant.
Textured
Textured implants have fine grooves along the surface. They are commonly used with anatomical implants to prevent them from shifting in the implant pocket. They may also be used in breast revision surgery if you previously suffered from capsular contracture. However, because of its texture, women with thin breast tissue may develop surface irregularities.
Profiles
Your breast implant profile will affect the projection of your breasts. It can affect the overall shape of your breasts, including where you gain the most breast fullness.
High
High-profile implants provide the greatest projection because they have a narrow base and fullness at the top.
Moderate
Moderate-profile implants are the middle ground with a slightly wide base, but they also have fullness at the top.
Low
Low-profile implants have the widest base and the least amount of fullness at the top.
Your Surgeon and Your Implants
While your implants are important in creating the look and feel of your breasts, your surgeon plays just as large of a role. Dr. Strawn works closely with all of his breast patients to ensure that they receive their dream breast appearance. Dr. Strawn spends an hour in consultation with each of his patients in order to gain a better understanding of their breast needs and goals. Together, you and Dr. Strawn will determine which breast implant is right for you. While you know what you want for your body, Dr. Strawn will lend his years of experience to help you achieve your new, beautiful body. If you are looking to reshape your body through breast surgery, schedule your consultation with Dr. Strawn today. Contact our office at 949-612-7231 or fill out our online contact form for additional information.
I can't thank you enough for the care and attention you have me over the last month. The work you do is so important. And, you excel at your work in every way possible. I am so grateful for the time you and Mrs. Hemkin took to talk with me to help me better understand my options. It was great comfort! I am doing well today because of the constant care you gave me. I hope all the good you do comes back to you." – T.T.
READ MORE...