Will My Breasts Sag After Implant Removal Surgery?
Posted August 09, 2021 in Breast Implant Removal, Breast Lift Surgery
2 Minute Read: 
Women who get breast implants may someday decide to have them removed. This could happen for various reasons — the implants no longer suit the woman's style, weight gain, sagging implants, firmness, leaking, or breast implant illness (BII).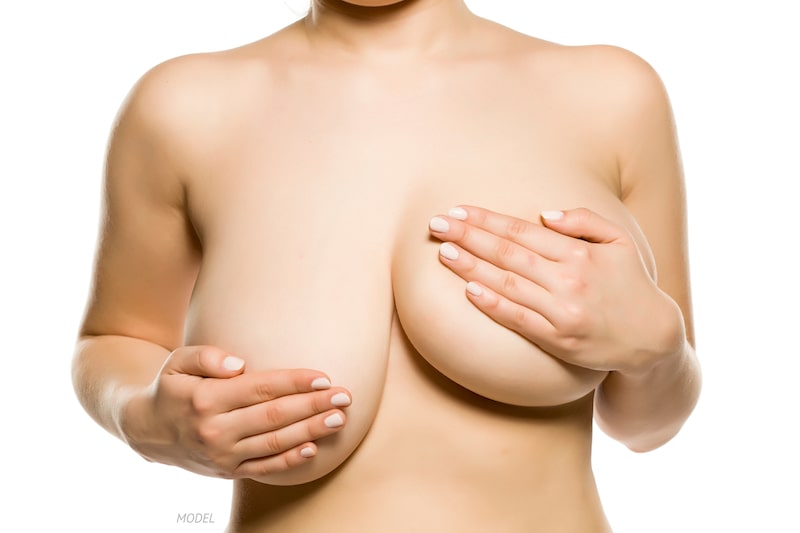 In fact, according to the
Aesthetic Plastic Surgery National Databank 2020 Report
, almost 50,000 people had their breast implants removed in 2020. Here at Scultura Plastic Surgery, this is Dr. Strawn's specialty. 
Whatever the reason for
opting for breast implant removal
, patients often fear that their breasts will sag post-removal. This is an entirely valid concern. 
Will My Breasts Sag After Implant Removal Surgery?
Unfortunately, the answer is yes; your breasts will be smaller and more saggy after implant removal surgery if no reconstructive surgery is performed. The breast skin and tissues were stretched to make room for the implants. When the implants are removed, the skin will only bounce back so much.
Of course, every woman is different, and results will vary from person to person. Skin loses elasticity as we age, and gravity pulls all tissues south. 
How Can I Fix Sagging Breasts Post-Implant Removal?
Luckily, you can fix sagging breasts by combining your implant removal surgery with additional breast procedures. Dr. Jon Bradley Strawn from Scultura Plastic Surgery offers different methods to reduce drooping.
Implant Removal and  Fat Grafting:

This procedure replaces the loss of implant volume with natural fat volume.

Implant Removal and Breast Lift

: This combination procedure will remove the implants and rearrange the breast tissue and skin for an attractive, perky final result.

Implant Removal, Breast Lift, and Fat Grafting

: This triple-procedure combination offers the best results and is considered to be Dr. Strawn's specialty. Body sculpting with liposuction and utilizing that fat allows for added volume and shaping to the breast. This, in combination with the breast lift, leaves the patient with young, full, and perky-looking breasts.
Book Your Breast Implant Removal Consultation
When it comes to working on your body, you want to hire the absolute best. Dr. Strawn is a breast implant specialist who focuses on breast implant removal and breast reconstruction. He understands how to tackle the sometimes tricky procedure for minimal scarring and the best possible results. 
Book your consultation today by calling
(949) 612-7231
or
filling out this form
.